Codul de eroare Outlook 0x800CCC0F
Mesajul generic al acestei erori este:
"Your server has unexpectedly terminated the connection. Possible causes for this include server problems, network problems, or a long period of inactivity. Account: 'mail.numedomeniu.tld', Server: 'mail.numedomeniu.tld', Protocol: POP3, Port: 110, Secure(SSL): No, Error Number: 0x800CCC0F"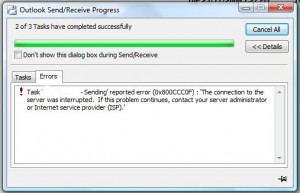 Eroarea apare atunci cand Outlook sau Outlook Express nu poate stabili o conexiune cu serverul de email.
Cauze si rezolvari:
– lipsa conexiunii la internet;
– server-ul de mail nu raspunde;
– setarile contului de mail sunt incorecte;
– profilul Outlook este corupt;
– un email de pe server este corupt;
– configuratia incorecta a programelor antivirus;
– Outlook a fost dezinstalat de pe calculator;
– configuratia Firewall-ului de pe calculator este incorecta;
– daca folositi un modem/router/server/ incercati un restart:
– verificati pe webmail daca nu este un mesaj foarte mare si outlook nu reuseste sa il descarce in timp util;
– verificati pe webmail mesajele si vedeti daca nu sunt mesaje ce ar putea contine virusi iar un antivirus sa nu va permita sa le descarcati;
Clientii Zooku Myhost pot verifica mesajele online accesand link-ul webmail alocat domeniului gazduit " ".