Previously, you had to find HTML, PHP, CSS or Flash programming experts, even for the simplest sites. The other option was to learn these things yourself, then make your site the way you wanted: a little complicated, right?
Don't be mistaken ...programmers are still needed today, particularly for more complicated websites, such as those for commercial purposes, but with some basic knowledge, anyone can create a presentation site or a blog where they can present their work or services.
Currently, there are CMS (Content Management Systems) such as WordPress, as a result of which, the creation of a site is accessible to anyone. A CMS (or website creation platform) is an intelligent platform for building a site from scratch and managing it without having to write dozens of HTML pages.
There are three large platforms that are commonly used: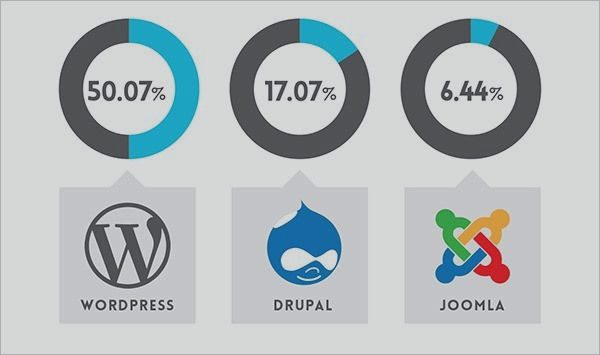 *according to OpenSourceCMS.com
As you can see from the statistics, WordPress is the preferred platform for most site owners because it has numerous advantages:
The platform is free and you have access to many predefined themes without paying for them. You just have to choose your favorite one;
WordPress is user-friendly for beginners. If you are at the beginning of the journey, you don't have to worry. You can add free plugins that expand the functionality of the site, from a standard blog to a real online store;
Ideal for small, personal projects as well as large websites. It works on almost any type of site, if you consider that famous names like eBay, Mozilla, CNN, Reuters use it;
Your site will be 'responsive', meaning that it functions properly on your computer or laptop, as well as on your tablet or smartphone;
There is a large huge community that will help you if you need advice, opinions or help. There are forums maintained by developers, programmers, and passionate bloggers who can help you whenever you need.
To build a site, you can also use Joomla or Drupal, which are very powerful platforms, but require extra knowledge compared to WordPress.
For beginners and more advanced users, we recommend you stick with WordPress because it is flexible and gives you everything you need without requiring too much effort.
HOW TO INSTALL WordPress
If you choose to host your new site at Zooku, you can install WordPress or another platform with just one click. Sounds good, right? Just choose the domain that you want and in a few moments the platform is installed.
Once you've implemented these steps, you can start shaping your website by installing a theme. After installing WordPress, the default setting is a blog style theme, but it is possible that it will not fit your requirements, particularly if you want a presentation site. As we said previously, there are so many free themes to choose from, that you will not have time to examine them all. Therefore, you have a lot of options to choose the perfect theme for your project.
More details about the following settings, plugins, adding posts, content or pages, can be found in the article First steps with WordPress.
Let's proceed to the next step ...